About Us
History
Artistic Director Bio
About Us
New Art Theatre's professional actors and design staff bring great plays to life for audiences of all ages. A clean, streamlined approach to set and costuming puts the emphasis on language and personal interaction among the characters, creating a template for further discussion and study.
New Art Theatre presents young audiences with challenging material and high quality performances to build and sustain discriminating audiences for the future, and reminds us all of the power and common humanity in the stories told by great dramatists, connecting and influencing our lives from ancient times to today.
New Art Theatre draws its talent from a pool of dedicated professionals, from seasoned veterans to newly-minted graduates of prestigious theatre arts programs. All share a passion for the limitless possibilities of the shared experience of live drama, and are committed to bringing classical and innovative works to rural and urban audiences, with particular attention to students and teachers at the high school and college level.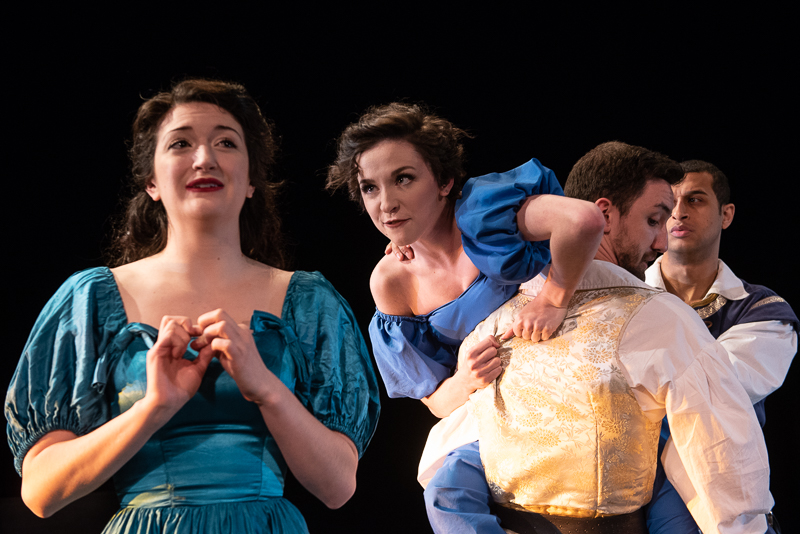 History
New Art Theatre continues a 35-year tradition of producing the world's greatest plays. Artistic Director Robert Shea produced period and contemporary classics as part of The Living Classics Series at the Palace Theatre beginning in the early 1980's. The celebrated Living Classics Series (produced in partnership with the New Hampshire Performing Arts Center at the Palace Theatre), produced over 60 plays serving New England's student and public audiences from 1983-1995. A Midsummer Night's Dream, The Tempest, Othello, Hamlet and Henry IV part i, are memorable Elizabethan productions from this period. Desire Under the Elms, The Crucible, Our Town, The Glass Menagerie, and Death of a Salesman are an example of the company's 20th Century repertoire. During this initial 12-year period, the Living Classics Series developed an extensive network of audiences and became a pillar of northern New England's cultural lifestyle.
In 1996, The Living Classics Series re-organized as New Art Theatre and has performed at The Palace Theatre, the New Hampshire Institute of Art, The Barnstormers Theatre, The Franklin Opera House. The Rochester Opera House and at the Dana Center, Saint Anselm College. A new generation of Theatre Classics include: The Miser by Moliere, Waiting for Godot by Samuel Beckett, Riders to the Sea by John Millington Synge, POEms by Edgar Allan Poe, At the Hawk's Well by William Butler Yeats, Oedipus Rex by Sophocles, and the full repertoire of Shakespeare's tragedies and comedies. New Art Theatre's 'New Works' includes: The Bone Ring by Donald Hall, How I Learned to Drive by Paula Vogel, and Language Roulette by Belfast, Northern Ireland playwright, Daragh Carville.
New Art Theatre is a cross generational community of artists. The company invites counsel and artistic participation from veteran performers and designers who have worked with the company since the 1980's and holds national auditions for young aspiring professionals in NYC annually. The company's aspirational ideals are: artistic 'excellence', 'innovation', and 'worldview'. The company is a member of the NH Professional Theatre Association.
Bio: Robert Shea, Artistic Director/Founder
Since founding New Art Theatre in 1997, Bob has directed approximately 25 of the company's productions. Credits include:
a canon of plays by William Shakespeare including Hamlet, Macbeth, A Midsummer Night's Dream and The Tempest
a cross section of Greek classics including Oedipus Rex by Sophocles and Agamemnon by Aeschylus
plays of the Irish Dramatic Movement including At The Hawk's Well by William Butler Yeats and Riders to the Sea by John Millington Synge
stagings of American literary works by Edgar Allan Poe and Nathaniel Hawthorne
new plays by Belfast playwright Daragh Carville and poet laureate Donald Hall
and 20th Century masterworks including Waiting for Godot by Samuel Beckett and How I Learned to Drive by Paula Vogel

Bob's New Art Theatre direction is recognized for its fundamentalism in concept and innovations in choreography and staging.
Bob served for 14 seasons as Artistic Director/ Producer for America's longest running professional summer theatre company, The Barnstormers Theatre in Tamworth NH (through the onset of the Covid 19 pandemic in spring of 2020 through early 2021). Bob has worked with the Company for 38 years as a director, actor, and lighting designer. Bob's directing credits for The Barnstormers include: The Producers, Spamalot, Dancing At Lughnasa, The Drowsy Chaperone, Our Town, A Life in the Theatre, Gold in the Hills, The Miser, Babes in Arms, Stones In His Pockets, The Lion In Winter, Big River, A Little Night Music, Jacques Brel Is Alive And Well And Living In Paris, Pippin, A Threepenny Opera, and nearly the full canon of Agatha Christie mystery plays.
From 1983-1995, Bob served as Executive/Artistic Director of the Palace Theatre in Manchester, NH. During that time the Palace was renovated and re-opened to the public. It was nationally recognized as a model for historic facility restoration and performing arts program development. During his tenure at The Palace Theatre Bob directed approximately 30 plays; credits include To Kill A Mockingbird, The Crucible, Amadeus, Desire Under the Elms, Death of a Salesman, Evita and M Butterfly.
Bob Shea served from 1996 to 2000 as Vice President for Academic Affairs of the New Hampshire Institute of Art. During that tenure he helped to develop the Institute's 4-year BFA degree program in the visual arts.
From 2000 to 2018 (concurrent with AD responsibilities at New Art Theatre and The Barnstormers Theatre) Bob served as Director (Presenter) of the Dana Center for the Performing Arts, a regional performing arts center on the campus of Saint Anselm College, Manchester NH. In this capacity, Bob annually presented a full season of international professional performing artists in contemporary dance, classical theatre, and various music disciplines including jazz, blues, classical, and world music serving the general public and an extensive network of student audiences throughout New England.
From 1975-1980 Bob served as tour director for The New England Repertory Company, a touring American theatre company in the United Kingdom. Bob served under its artistic director and founder W. Clapham Murray then on the theatre faculty of New England College. During this period Bob earned his first professional directing credits with eight productions.
In addition to professional directing and administrative responsibilities, over the years Bob has served as full-time faculty, adjunct faculty or guest lecturer at the University of Memphis, New England College, the NH Institute of Art, and Plymouth State University.
Bob holds a Master of Fine Arts degree from the University of Memphis in acting and directing. He is a member in good standing of Actors' Equity Association (AEA- the professional stage actors union) and the Stage Directors and Choreographers Society (SDC- the professional directors and choreographers union). In February 2013 he was awarded the lifetime achievement award from the NH Theatre Awards.